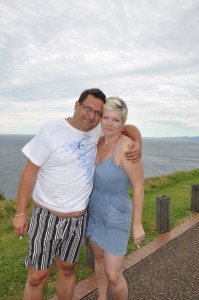 Dear Aussies!
Waiting for our flights back to Singapore and Zurich, I'm thinking of all the fantastic moments Chantal and I could share with you in the last five weeks.
I remember our arrival in Sydney as if it was a couple of hours ago. In the following days and nights you took us to walks through the city, you showed us animals and plants, restaurants and bars, markets and shops, gamehalls and clubs and sounds and parks and the harbour. You drove us around, you spent your time with us at the beaches, on roads, on lawns and in cheap hotels. You organized a big party for Chantals birthday, we were your guests on Christmas, you started the new year with us. You looked for us, you cooked for us, you cared about us. Nobody of you ever used the words "no" or "not possible" when we asked for something.
All of you gave us free access to your houses, your gardens, your fridges and – above all – to your hearts.
You told us lots of funny and other stories about yourselves and your country, you shared your joys and sorrows with us, you helped us when- and whereever needed. You integrated us into your exclusive circle at Nanny's Place and in Cat's house with wide open arms as if we were friends since many years, not foreigners from overseas.
Sylvie, Cat, Eric, Nat, Dominique, Chase, Niquie, Jade, Cathy, James, Christian, Kerrie, Mia, Phil, Sheila, Michelle, Maurice, Maman in the Blue Mountains, Fred, Chris, Olli, Schiz, Mischka and other hosts, whose names I have probably forgotten (if yes, I'm sorry: there were so many new faces:-)) – you gave all to make our stay in Australia to an amazing and unforgettable experience we never dared to expect when we started our journey in fuckin' cold Switzerland.
We don't know how to thank you for all you've done for us. We'll think about ways to show you our deep gratefulness in the next 23 months. That's not a long time – but we'll get it.
One thing is for sure: In our honeymoon we'll fly back to your wonderful continent. And who knows: perhaps we will see some of you on our wedding. I mean: You all have witnessed my proposal. So why shouldn't you read the next capture of the story we're about to write? Get your asses over here, guys and girls! Until we move together, Chantal lives in Zug. I'm waiting for her in Burgdorf.
We would be very, very happy to meet you again as soon as possible. I by myself feel really proud to get – no: to be already – a part of this lovely and crazy family I found without having looked for on the other side of this planet.
Have a great time, take care of yourselves and the ones you love – and please: don't forget the two bloody Swiss tourists as soon as their airplane has cut the clouds. Your guests new friends will keep you in their hearts forever.
Hugs & kisses,
Hannes and Chantal
(Most of the pics are made by Chantal)